Welcome To
GUNBARREL CENTER
This is what you had in mind all along but didn't really expect to find. Luxe apartments that crank the wow factor to eleven. A walkable community that reminds you why you wanted to live in Boulder in the first place.
2017 Multifamily Executive: Community of the Year
2017 NAHB Best in American Living: Best Development
2017 Gold Nugget: Best Community Award of Merit
You've never seen any place like Gunbarrel Center before. Contact us today for your personal tour and see just how interesting life can be.
STARE
You don't build 'ordinary' in a city as interesting as Boulder. And we didn't. We created Gunbarrel Center to stand out. Views of Boulder Country Club and The Flatirons made oversized windows mandatory, and an indoor sports simulator means fun any time of year. But if you'd rather sit by the fireplace and enjoy a custom espresso in our clubhouse, we'll understand. That's why it's here. A cozy spot to read a book or work on your laptop with the buzz of a special community around you.
ANYTHING BUT AVERAGE
We set out to build apartments that are as interesting as the people who live in them. That means nine-foot ceilings, wood-style flooring, and full-size washers and dryers. The kitchen alone will make you stop and stare with elegant quartz counters, custom backsplashes, and modern open shelving. You know how people naturally gravitate to the kitchen? In your home, it will be a certainty.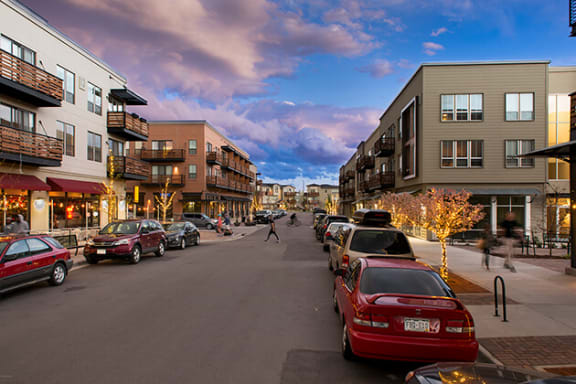 You live on Main Street with restaurants and retail just downstairs. Boulder Reservoir, Pearl Street Mall and 300 miles of Boulder's hiking trails and bike paths are your natural playground. And in the off chance you need to get in the car, the Diagonal Highway is just over there.
Sports Simulator
Amenities centered
AROUND YOU
Wi-Fi Lounge with Gas Fireplace & Flat-Screen TVs
Demonstration Kitchen
Coffee Bar
One-, Two- & Three-Bedroom Residences
Large, Energy-Efficient, Dual-Pane Windows
Expansive Nine-Foot Ceilings*